Keno is a game of chance in which 20 of the possible 80 numbers are drawn. The draw is repeated depending on the casino and you can start a new draw immediately or there may be a break between the two draws.
With this casino game of chance, you can play 10 different types. From Keno Game 1 or 2 to Keno Game 10, the game depends on how many numbers you guess. If you play Keno with number 1 you are guessing one number, so logically in Ken number 10, you are shooting 10 numbers.
There are many different ways to win in Ken. You are lucky, that is, you return the stake in games 6,7,8,9 and 10 even if you don't hit any numbers.
The rules for Keno are similar, but there are differences from casino to casino. Online casinos are largely the same except for a few rules regarding online payments. You can get acquainted with them on the casino website. The FAQ documents are detailed and you must adhere to them. This game is very simple and easy to play. It's a simple thing to say, but with a good system, chances are multiplied.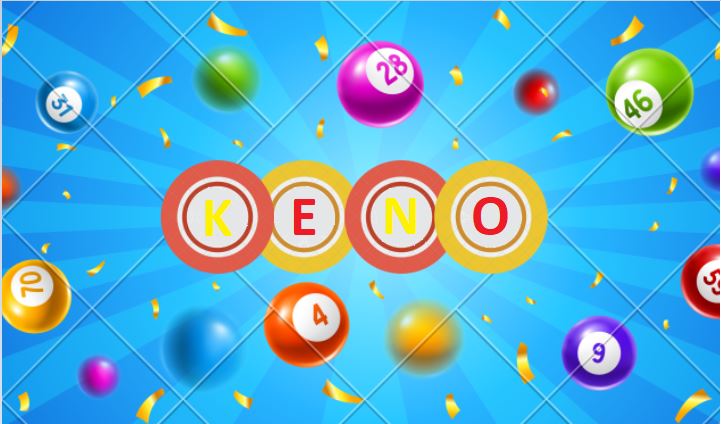 Keno's Background
Keno is a game that has been around for over two thousand years. The keno tickets were previously known in China as "baige piao" or "pai-ko p'iao," which translates to "white pigeon ticket." The game was played with Chinese characters rather than numbers, and it included 120 characters instead of the 80 found in today's version of keno.
Keno grew so popular that it's believed it was created to help pay for the building of China's Great Wall. In the 1800s, Chinese immigrants brought it to America. The people, on the other hand, found the Chinese characters to be incomprehensible, therefore they were changed by numerals. This is said to be how keno became a popular game, which is still played today and can be found in any online casino.
How to play Keno?
Keno is a fast-paced lottery-style game that offers pleasure to participants. It may be found in practically every online casino, as well as several restaurants and bars that hold bingo or keno nights.
If you're going to play keno online, the first step is to buy a ticket. The ticket has all of the numbers from 1 to 80 inscribed on it, as you can see.
The following step is to choose your numbers. Depending on the keno variety offered by the casino, you can choose between 1 and 20 numbers, referred to as "spots." You'll note that the varying payments for catching a spot are listed on the side of the ticket as you mark the places.
You'll need to place your wager after you've marked your areas. The minimum and maximum bets depend on the casino, but on the keno variant as well.
Finally, press play when you've finished all of these procedures, and the balls will be selected using a random number generator. The software automatically marks off the digits if you capture a spot.
The following should be indicated for a simple ticket game:
Played numbers (minimum 1, max 10)
The number of Keno games available (also at least 1 and at most 10)
Place a wager on each combination.
System game
Here you should also select the system you want to play:
Numbers to play (minimum 2, maximum 12)
Keno plays – it is at least one number smaller than the total number of digits you play
Bet per combination
All single-ticker combinations can be played one-on-one or with a subscription of 2 to 7 draws. You must indicate the subscription game on the ticket.
You hand over the completed ticket to the administrator or if you are playing online simply press the payment. And if you are "short" on time you can choose one of the ready-made combinations that are randomly selected.
Bet and win in Keno
The minimum stake depends on the game you play and the casino you play. You can also play keno games 9 and 10 with a very small stake, while it must still be slightly higher with keno 1. Potential winnings are known in advance and are determined by multiplying the stakes by combination and the odds of a hit.
Example: If you hit 10 numbers out of 20 drawn, it is a game of Keno 10. If you bet 100 dinars you can get one of the following winnings.
| Affected Numbers | Calculation | Winnings |
| --- | --- | --- |
| 10 affected numbers | 100 × 100,000 | 10,000,000 |
| 9 affected numbers | 100 × 10,000 | 1,000,000 |
| 8 affected numbers | 100 × 500 | 50,000 |
| 7 affected numbers | 100 × 20 | 20,000 |
One combination played only means one gain because higher-level gains exclude lower-level gains.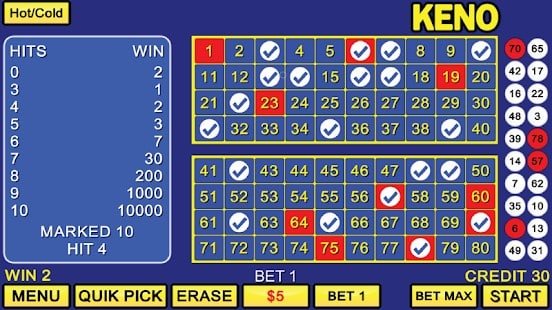 Types of Keno tickets
To make the game more exciting, the player can purchase a variety of tickets. Beginners should stick to the basic ones until they've mastered all of the others. Check out the 1xBet Nigeria offer to start practising keno.
Straight Tickets
This is the most basic type of ticket, in which you choose your numbers and there is only one game. It becomes increasingly harder to hit all of the numbers the more you choose. As a result, we recommend starting with numbers in the range of 4 to 8.
The number of spots caught determines the compensation, as displayed in the table next to the ticket. However, all casinos have a win limit, so no matter how much you wager, the payoff will never surpass the limit.
Split Ticket
A split ticket combines two or more straight tickets into a single ticket. So there are still 80 numbers on one ticket, but they've been split into two or more. The numbers on each split ticket are separated by a straight line or a circle.
There is no requirement that the splits have the same number of spots. Each number appears only once on the ticket, and rewards for each group are processed independently.
Way Ticket
The Keno method tickets are a little more difficult to figure out. At the same time, they allow the user to play many games with the same ticket. This wager allows you to combine numerous sets of numbers, allowing you to play multiple games and maximize your chances of winning. The majority of way tickets only include three to five seats per group.
So, let's assume you take six numbers and circle them to divide them into two groups of three. This means that you can win your trip ticket in two different methods. You can also add both sets of numbers to a third circle for a total of three chances to win. So you've bought a three-way ticket and staked three different wagers on it. As a result, because you only need to buy one ticket rather than three, way tickets appear to be less expensive.
Combination Ticket
Combination tickets, as the name implies, combine multiple types of tickets into a single ticket. You can wager on as many groupings of numbers as you want, as well as as many positions. Choose from a straight bet or a way bet, or combine the two with one or more of the other possibilities.
These tickets are quite popular among keno players, but they may be a little challenging for newbies.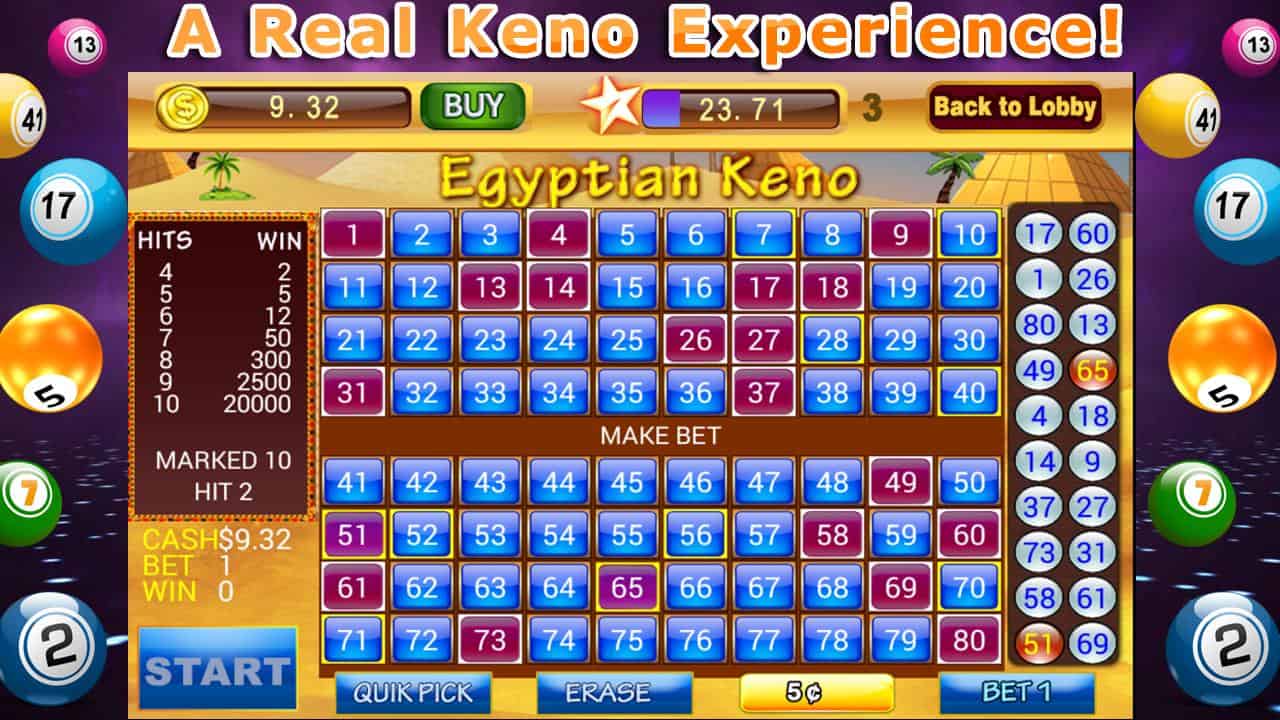 Strategies for Keno
Because keno is a game of chance, experimenting with techniques may not be the most effective method to win. In any case, we'll go over a few tactics you may employ to stay focused and enjoy the experience.
Block Strategy is a simple method of playing the game. Almost all of your bets are made in blocks. You get to choose what kind of blocks you want, so let's assume you want 2, 12, 22, 32, and so on. Alternatively, a divider can be used. A separator of 11 is a nice example of this. Then you place your wagers on numbers like 1, 12, 23, 34, and so on.
Keep note of the numbers drawn and then select the "cold numbers," which haven't been drawn in a long time.
The strategy of hot numbers is the polar opposite of cold numbers. Hot Numbers are ones that have been drawn three times in ten games or more, and you can try picking them in the hopes of seeing them again.
There's also the potentially dangerous Martingale system to think about. The Martingale technique requires you to double your stake every time you lose. I'm not sure if it's a good idea to apply it to keno games because it's essentially a game of chance, but it's up to you to decide.
The probability of winning
You win the main win in this game if you hit all 10 numbers. Probability 1: 8.911.711 looks very small BUT! Stopping at one of the 7 possible winnings that hit 10 numbers makes it much bigger and is 1: 9. The odds of one-hit are 1: 4 which is not so bad.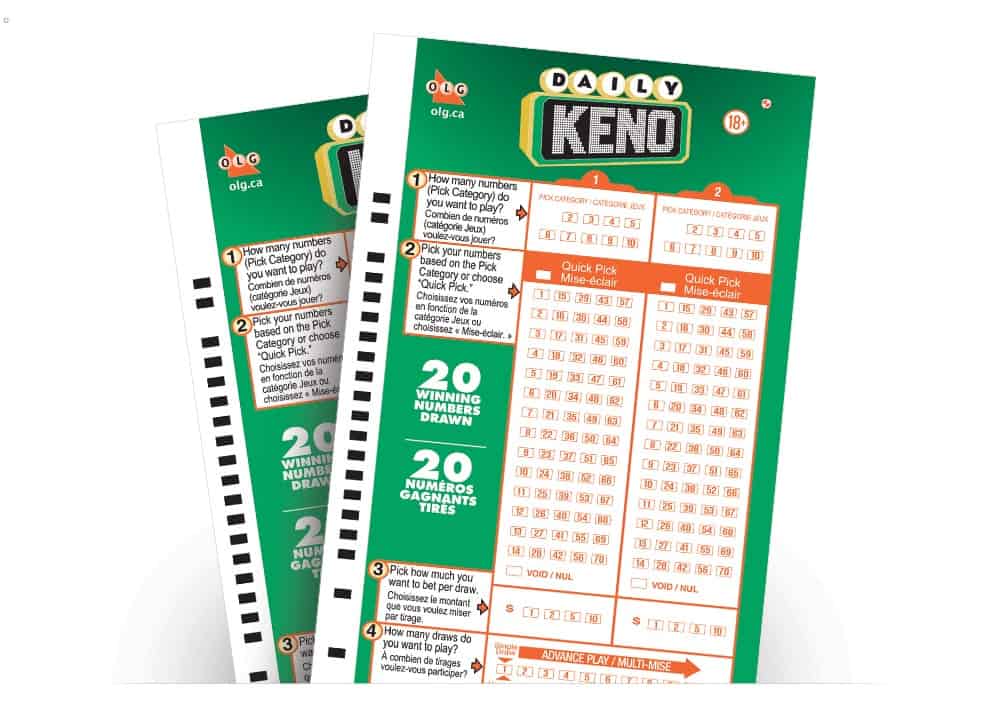 Machines designed for Keno
At any of the casinos, you can play on specially designed Keno machines. The players wait for them to finish the game, which is in progress and can start immediately. These machines do not need to assemble a ticket because they work on the principle of Keno online. The numbers you play and the game you want to dial on the screen. When Keno is in this format it is also known as "instant play".
Variants of Keno
The essential rules for every keno version stay the same, regardless of which one you choose to play. It's simple once you understand the game, and have a range of options to pick from. Below is a collection of the most well-known keno variations.
Super Keno
Super Keno is a variation with a bonus function like a slot machine. If the first drawn ball matches one of the player's chosen numbers, all rewards will be doubled by four.
Power Keno
Like Super Keno, Power Keno features an extra function that alters the payoff amount. If the last drawn ball, the 20th ball, matches one of the player's numbers, the winnings will be doubled by four.
Progressive Jackpot Keno
There are progressive jackpots associated with several keno games. They function in the same way as progressive jackpot slots. They happen at random, and the jackpot grows as more people play the game until it is won. It could be an exciting sensation to hope that the next game you play is the one that pays off.
Keno Slots
This game combines the elements of keno and slot games. The game is played at a faster pace, and participants are permitted to select more numbers than usual.
Why choose Keno?
Most often, players choose Keno for the following reasons:
Keno presents a type of challenge
Odds are great and therefore the number of winnings
You choose the game, the bet and the numbers yourself
For a bigger stake, a bigger win automatically also follows
You know the winnings beforehand, they don't divide and you don't raise it the next day
You make a profit even if you don't hit any numbers