Slots / Games

Bonus Offer

Deposit and Withdrawal

Mobile Version

Customer support
Nairabet is the first sports betting website in Nigeria. It was founded by Akin Alabi in 2009 and it is one of the leading bookmakers in the Nigerian sports betting business. The company that operates with Naira bet is Over the Top Entertainment Ltd and is licensed by the National Lottery Regulatory Commission Nigeria. It is also a member of the Nigerian Bookmakers Association. As a result, it passes all of the criteria that we need to declare this casino website to be safe and secure to play on.
The fact that it is still among the finest is a credit to the quality of service it has provided over the years, as well as the development it has made in the last ten years. It is without a doubt one of the most well-known bookmakers in the country.
Aside from the amazing sports betting options, Nairabet now offers virtual sports betting and online casino. The online casino is not as popular as sports betting, but still, they have some decent games included. NairaBet is known for its casino games, but it also offers Scratch Cards, Instant Win, Kema, and Bingo.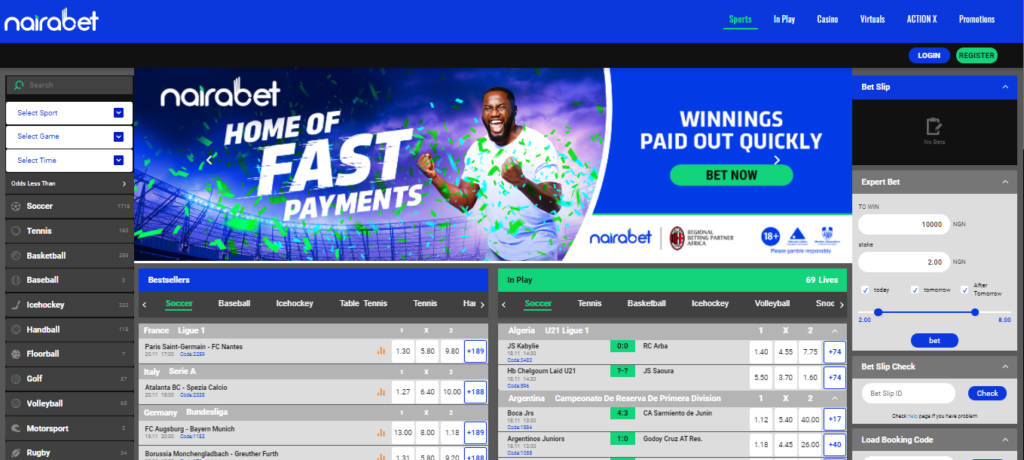 Nairabet Casino Games
Due to the fact that Nairabet is mainly a sports betting site, the online casino is still not so popular as many other Nigerian casinos. On the plus side, the casino games are available in free play mode, which means you can try out the games for free, have some fun, and learn more about them before diving in with real money. The games portfolio consists of mostly slot games, table games, virtual sports and instant win games.
Slot Games
There are around 80 slot games in the casino and are all provided by one provider,1x2Gaming. 1X2gaming is a subsidiary of the 1X2 Network, a UK-based provider of casino games. Also, 1X2 Gaming owns and operates Iron Dog Studio and Iron Dog Studio slots are more visually appealing, with superior bonus features and overall playability. All of the slot games feature animations, symbols, fantastic sound effects, and even 3D images. Players will be able to enjoy not just games with bonuses and winnings, but also a joyful experience.
At Nairabet casino you can play the popular 3×3 slots by 1x2Gaming. These slots became well-known as a result of their unique features and gameplay. The slots stick to modest settings while providing a unique slot game experience.
The 3×3 slot series includes Jackpot 3×3, Fruity 3×3, Rainbow 3×3, Italia 3×3, Football 3×3 and Xmas 3×3. The slots in the series are made up of nine separate slots, each with three reels. Each can be turned on or off, which affects your total stake.
Slots like Dark Thirst, Gladiator of Rome, and Yule Be Rich come highly recommended. You can also play the branded slot Deadworld, which is fantastic. Dr Jekyll & Mr Hyde, Viking Wilds, Blood Queen are some of the other fantastic video slots that players might like.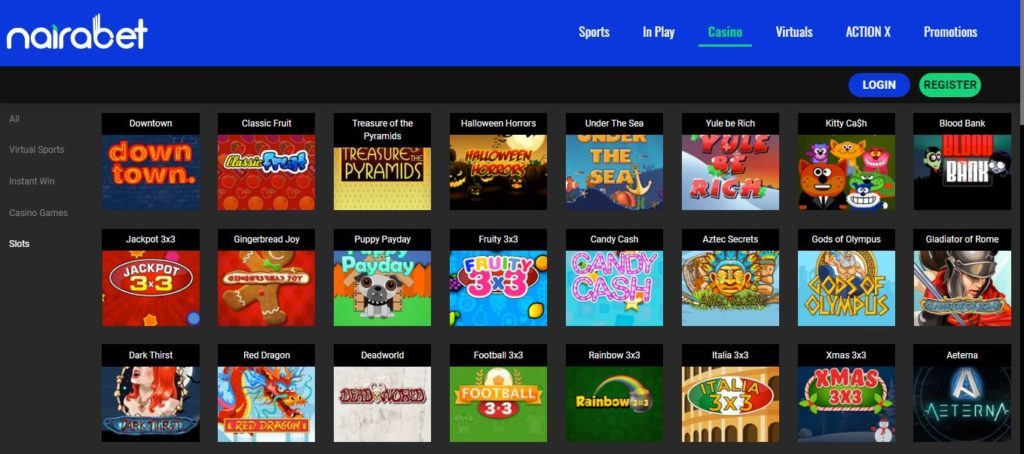 Table Games
The table games section at Nairabet is a bit slim, but the games are visually impressive and provided by 1x2Gaming. The 3D collection of table games includes 3D European roulette, 3D blackjack and 3D baccarat.
Apart from these which are most played, there are a few more versions of roulette, such as Roulette Diamond, Classic Roulette and European Roulette.
In addition to the 3D Blackjack, there is a Classic Blackjack, Red Queen Blackjack and Blackjack Bonus.
Finally, there is one game of Sic Bo 888 and Classic Baccarat.
Virtual Sports
Since sports betting is so in demand, to attract the sports bettors to use the casino Nairabet included virtual sports in their portfolio. Virtual Sports blends the guaranteed payouts of instant win games with the emotional appeal of traditional sports wagering. For example, Virtual Soccer is a traditional soccer betting game. It has a simple UI and over 40 championships to pick from, as well as quick sessions. Simultaneously, the gambler has enough time to make a decision (90 seconds between each session). Another one worth mentioning is Virtual Tennis. The betting options include colour indicators that change throughout the game. This game has everything you need to convert a boring bet into a thrilling experience.
There is also Virtual Football, Virtual Football Pro and Instant Football games.
Even though football is the most popular sport, the virtual sports games available at Nairabet casino include Virtual Racing, Virtual Tennis, Instant Horses, Instant Greyhounds, Instant Speedway etc.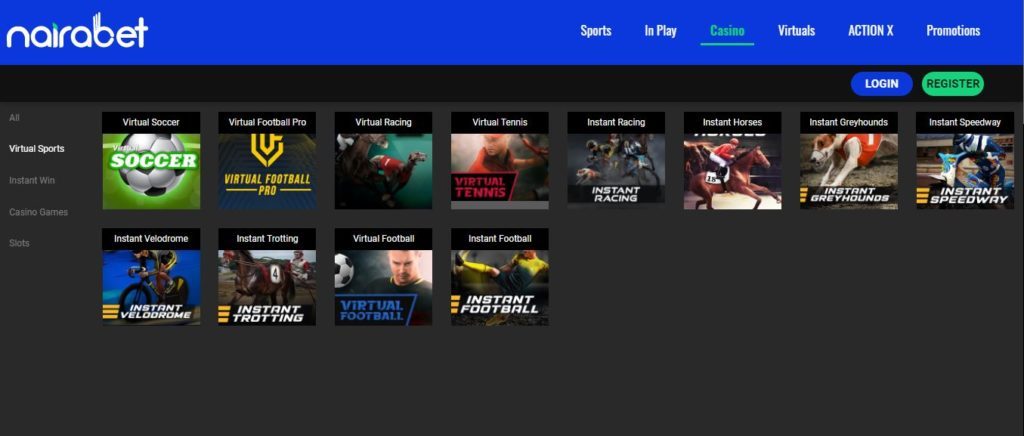 Instant Win Games
Instant Win Games is a popular feature of the website that has attracted a lot of attention. These games are mini-games with instant results. You can play for free, simply for pleasure, or for a chance to win real money. In this section, you can find some Keno games, Darts but mostly scratch cards with interesting themes and animations.
Nairabet Bonus and Promotions
NairaBet features two sections: casino and online betting. There are now various promos available in the betting department, but none are accessible at the online casino. This is probably because the casino is pretty new and still improving, but we do believe that they will include a welcome bonus for new casino customers, as well as casino promotions.

Nairabet welcome bonus
Nairabet offers a welcome bonus of ₦22,000 in Free Bets for sports betting. Basically, the new registrants will receive up to ₦2,000 as a Free Bet daily awaits for the first 11 days.
To qualify for this enticing promotion, individuals must ensure their account is KYC approved and adhere to specific betting conditions. Bets must be placed on Football, Basketball, or Tennis, comprising a minimum of 3 selections, each with minimum odds of 3.00. Even if the initial bet isn't a winning one, participants remain eligible to receive a Free Bet up to ₦2,000 every 24 hours from the moment of registration.
The exciting progression begins with the first bet, which should be settled within 24 hours of registration, followed by subsequent bets settled between 24 and 48 hours, continuing in this pattern for a maximum of 11 days. This promotion is an excellent opportunity to make the most of your betting experience while indulging in the thrill of Free Bets with Nairabet.
Nairabet casino promotions
NairaBet is rolling out an astonishing opportunity – a whopping 1 million Free Flights for the Aviator game. A daily spectacle awaits as the Rain Free Flights cascade randomly through the chat function, making up to 10 appearances each day. Placing bets on Aviator is all it takes (with no minimum bet requirements), and even if you miss out on cashing in for a win in time, you're in luck! If you're actively playing when the Free Flights Rain in the chat, you can seize the chance to claim a Free Flight prize for your next wager. There's no ceiling to the number of Free Flights you can claim, giving you the freedom to soar high!
Mark your calendars: the Aviator 1 Million Free Flights promotion will be active from Wednesday, August 9th, 2023, through Saturday, September 30th, 2023.
Eligibility for a Free Flight in the Aviator game is a breeze – simply make a bet (with no minimum requirement) on the Aviator game within 30 minutes of each sporadic award of the Rain Free Flight feature. Expect multiple awards throughout the day, spontaneously surfacing at any given time. To reap the rewards, swiftly click the Claim button within the Chat feature. Remember, one Free Flight can be claimed per Rain award. Once claimed, Free Flight rewards are immediately credited, exclusively usable for the Aviator game.
Nairabet Mobile
The bookmaker has made the most of what modern technology has to offer by providing a fully compatible HTML5-based mobile website which lacks nothing compared to the desktop version. The Nairabet mobile website's layout is well-designed for easy navigation. On the main screen, you'll find all of the important tabs and shortcuts. Customers get easy access to all features and markets.
For Android devices, Nairabet provides a dedicated mobile app. The Nairabet mobile app is not available on Play Store, but the players can download it from the website, desktop or mobile. Customers of Nairabet do not have access to a specialized Nairabet iOS mobile app. Nonetheless, the mobile website has been adapted for iOS, allowing users to access all of the features and services available on the desktop website.
How to deposit at Nairabet?
Nigerian players have different casino payment methods to choose from when making a deposit at Nairabet. To choose, go to your account and choose the Deposit section. You will see the available options listed, such as Paystack, GTPay, Xpresspay, OPay and Quickteller Nigeria.
Paystack card deposit is the first available option. Paystack is a payment processing company that many businesses use. Choose this option and enter the amount you want to deposit. A new window will open and you will need to provide your card details (card number, expiry date and CVV). Check all the details and proceed with payment.
Paystack inline deposit is another way to make a deposit. Select "Paystack Inline Deposit" and enter the desired amount, then click "Deposit". Then you'll have to decide whether you want to pay with Paystack, Visacard, Mastercard, or Verve. Enter the information required and proceed with the deposit.
GTPay Deposit is for GTBank customers who have an online banking account. Enter the amount and that will take you to the GTBank online banking site where you need to enter your email registered with the bank to proceed.
Express pay is one of the deposit methods for topping up your Nairabet account, which you may do using an ATM card or directly from your bank account. If you're using the desktop version, log into your Nairabet account and click Deposit. Choose Xpresspayment deposit, enter the amount, click deposit, and confirm.
On the next screen, you can choose to fund your account with an ATM card or a bank account. To fund using a card, you'll need to enter the information from your card, including the card number on the front, the CVV on the back, and the card's expiration date. If you choose to deposit with a bank, you can use First Bank or UBA.
To use OPay, you must first download and install the app from the Google Play Store or the Apple App Store. Once you log in, go to Betting and select it. From the drops down menu select Nairabet. Enter the User ID that you can find next to your Nairabet's account username. Click Next and enter the amount you want to deposit. Check your details and click Pay.
How to withdraw from Nairabet?
A bank transfer is the only way to withdraw your winnings from your Nairabet account. But, on the bright side, there are many banks that are accepted, and you can find the full list once you go to the Withdrawal section on your account.
Find your bank from the drop-down list, provide your bank account number, bank account type and the amount to withdraw. Once you request the withdrawal, it is being processed within one day and then you can request for the funds to be transferred.
The minimum withdrawal amount from Nairabet is N1000 and the maximum withdrawal is N500,000. In addition, withdrawal is available once every 24 hours.
Nairabet Registration
To open an account and start playing at Nairabet, click the green REGISTER button placed on the right-hand side. There are two ways to do this, using an email or phone number.
If you choose to register at Nairabet using your email address, choose the email option and follow the instructions:
Create username and password
Provide Email
Tick the box to accept Nairabet's terms and conditions
Click Register
Following this, you will receive an email with a link to verify the account. Once you click on the link, your Nairabet account will be activated. You can now log in using the username and password you created.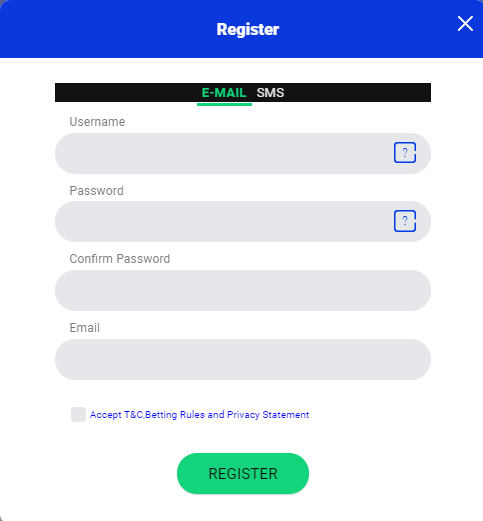 To register at Nairabet using your phone number, choose the SMS option, then:
Create username and password
Provide the phone number you want to link to the account
Tick the box to accept the terms and conditions
Click register
Nairabet will send you an SMS with a code to verify the account. Enter the code in the field to activate the account. After this, you can make your first deposit and start playing.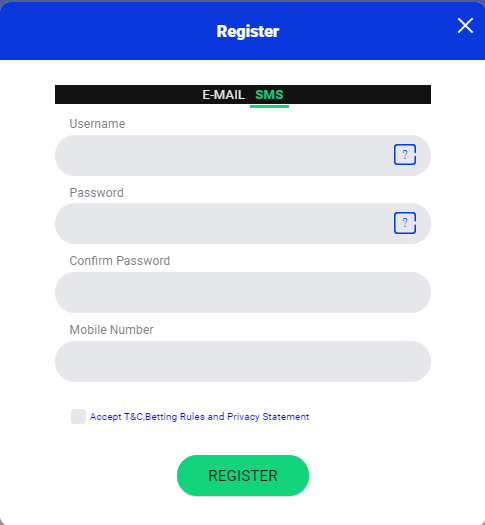 Nairabet Customer Service
For any questions or issues, NairaBet provides many ways to contact customer service specialists.
If you scroll down to the bottom of the site, you'll see two numbers that you can use to call customer support. A NairaBet customer service representative will assist you with any problem you may have.
You can also contact NairaBet via e-mail if you want a formal response to your query or prefer to send an e-mail rather than contact someone via phone. Simply send an email to [email protected], and you will receive an answer to your question as quickly as possible.
NairaBet, like many modern bookies, allows clients to contact them via Facebook, Twitter, and Instagram. While they may not answer immediately, they do so rather rapidly because their customer support service is available 24 hours a day, seven days a week.
Unfortunately, NairaBet's bookmaker website does not offer a live chat option. This is a bit of a bummer because live chat is typically the most convenient way to reach a customer service person.