Skrill is a digital wallet that allows you to send money and make online transactions. It is one of the most popular online payment systems in the world, with over 40 million users, and it is also available in Nigeria. Skrill is accepted by a vast number of online retailers, including Nigerian online casinos, providing clients with as many payment alternatives as possible.
Moneybookers was the previous name for the company, which was created in 2001 in the United Kingdom. It was one of the first online payment services, and it soon earned a good reputation among clients. In 2011 after rebranding, the name was changed to Skrill. Simultaneously, they became sponsors of the European Poker Tour, which is operated by PokerStars. This way, they managed to increase their online casino customer base. Paysafecard was bought by Skrill not long after the rebranding. In 2015, Optimal Payments Group, which was later renamed Paysafe Group, bought both companies.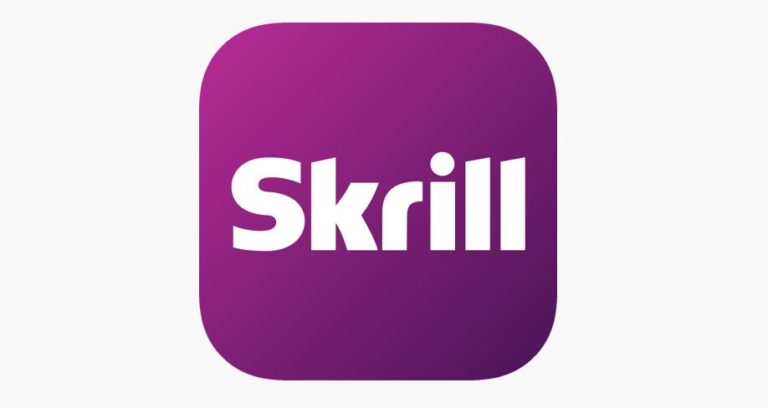 What is Skrill?
Skrill is a global online payment system that allows users to send and receive money from anywhere on the planet. It allows you to send and receive money, transfer funds to another account, purchase online, and more. While Paypal is the most common method of online money transfers, Nigerians are unable to receive money through PayPal. However, all the services that Skrill provides are available in Nigeria and for Nigerians.
How does Skrill work?
Skrill works in the same way as any other online banking service offered by a traditional bank. It shows cash balances, transactions, and other financial data. The only distinction is that Skrill is an online financial organization that does not have any physical facilities. You'll need to use another online payment option, such as a bank card or a mobile transfer service, to do so.
Skrill has simplified the process of transferring money. The good news is that you can still send money to someone who does not have a Skrill account. To send money, you can use a bank account, a mobile wallet, an email address, or a phone number. All you need is an active account, which you can get by logging in, selecting Money Transfer or Send to a mobile number or email address, and following the instructions.
Now that many merchants have partnered with Skrill, customers can use their accounts to make online purchases. You can fund your account using a credit card, a bank transfer, or local payment options, and only need your Skrill credentials to make payments. Your payments will be much faster and more secure as a result of this.
Online casino deposits with Skrill in Nigeria
Skrill is an eWallet that is accepted as a deposit method at practically all Nigerian online casinos, as well as almost all online casinos throughout the world. Skrill is ideal for online gambling transactions since it is widely recognized by online casinos. Plus, has very small fees (if any) for both deposits and withdrawals, has top-notch security, and provides players with very quick processing times. To make things even better, practically all online casinos that allow Nigerian players offer immediate deposit processing. So, you can make a deposit and start playing right away.
It is very simple to start depositing and withdrawing with Skrill. Log into your online casino account, go to Deposit, and select Skrill as your casino payment option. Choose a deposit amount and get started playing right away. The withdrawal can be done in the same way. After you've won and wish to withdraw funds from your online casino account, use the Skrill account as a withdrawal option.
One of the key reasons people use Skrill for financial transactions is security. Since Skrill acts as an intermediary between a Nigerian bank and an internet shop, the latter will not obtain any of your personal or financial data. This is a compelling argument to use Skrill at online casinos, as they will have no access to your personal or financial information.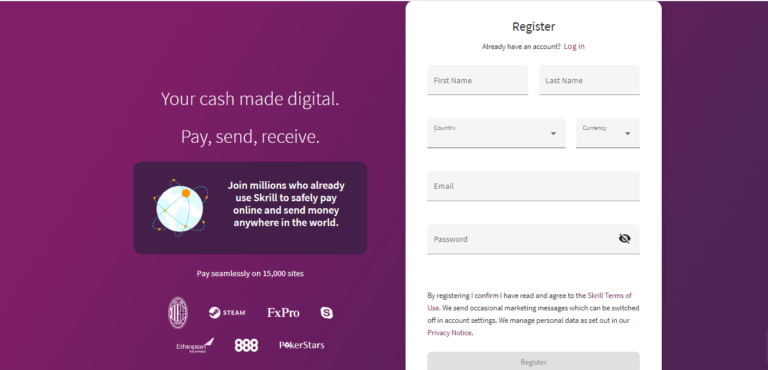 How to open Skrill account in Nigeria?
To open a Skrill account in Nigeria, you will need several minutes of your time. The process is very easy and quick.
First, click the Register button at the right-hand side corner of the site. A registration form will open, where you need to provide your name and surname, country of residence, email address and to create a password for your account. In this step, you will also need to choose the currency you want to use. Unfortunately, Nigerian Naira is not part of the list of currencies Skrill supports, but there are many more to choose from. Just have in mind that once you choose your main currency, you cannot change it later, so choose wisely.
When all this is done, click the Register button. A second form will open, where you are required to enter your full address, date of birth and provide a phone number. Be advised that the phone number must be valid as you will receive an SMS to verify the number belongs to you.
Once this is done, you can fund your account and start using it. Another thing to be aware of is that in order to make larger transactions, you will need to verify the account. To do this, Skrill will ask you to provide an International passport/National ID Card/Driving License. Upload the documents, and wait for the instructions.
How to fund Skrill account in Nigeria?
Before you can use your Skrill account, you must deposit funds. In Nigeria, there are a couple of options for funding your account, like bank transfer and bank card.
Login to your Skrill account and from the dashboard choose deposit. The available options will show, and you can choose which one you want to use. If you choose a bank card, you will need to enter the card details and then the amount you want to deposit. Once you click the Deposit button, your bank will send you an OTP number, enter it and the money will be transferred to your account instantly. There is a fee of 1% for deposits with a bank card.
Making a deposit using a bank transfer can take about 3-5 working days, and the fee is also 1%, so we recommend you use the bank card.
How to withdraw money from Skrill in Nigeria?
Withdrawing money from Skrill into a Nigerian bank account is a simple and quick process. You can withdraw money from Skrill into your Nigerian bank account once your account has been validated.
Here's how to withdraw your funds into a Nigerian bank account:
Go to Skrill, login to your account and choose Withdraw. If you have already added a bank account to your Skrill account, it will be shown and you can just click on it to use it. Or, you can enter another bank account. Following this, enter the amount you want to withdraw, and follow the instructions to complete your transaction.
Withdrawals to Nigerian accounts are quick and carry a fee of 5.5 EUR per transaction.
Alternatively, if your card is capable of receiving payments, you can withdraw using it. However, the fee for withdrawal is pretty high, 7.5%.
Is it safe to use?
Skrill is a highly secure digital wallet. One of the reasons you may trust Skrill with your money is that it is authorized by the UK Financial Conduct Authority under the Electronic Money Regulations 2011. Before registering, check their Privacy Policy if you have any worries. In summary, Skrill will only use your information to offer you with services and to fulfill their commitments to you. Your bank account information, as well as other personal data, is hidden. Money transfer receivers may have access to some of your personal information, such as your name or nationality only.
To keep your account safe, we always recommend using two-factor authentication. As you'll be given a password or a QR code, you'll need to have your phone with you every time you wish to log in. This ensures that no one else can access your account without your permission.
Advanced encryption security is used by the supplier to ensure that no one can read any intercepted data. To conclude, you have nothing to worry about if you choose Skrill.