Nigerians have access to a variety of online payment options. Neteller is one of the few services that has been around since 2000. This payment method has been offered to Nigerian nationals since 2016, and it has quickly attracted a large number of users.
Neteller was founded in 1999 in Canada, then relocated to the Isle of Man in 2004 and floated on the London Stock Exchange the following year. It was one of the first digital wallets to accept online gambling payments shortly after it opened for business. The company Paysafe Group acquired Neteller in 2015, along with their competitor Skrill, and has since grown to become one of the top participants in the global electronic payment systems market. The Financial Conduct Authority has granted Paysafe Financial Services Limited permission to issue electronic money and payment instruments under the Electronic Money Regulations 2011.
Neteller is a digital wallet that allows users to send and receive money online quickly and securely. It's the ideal alternative for customers that require quick access to funds and better money management. Neteller is mostly used in the gaming, trading, and FX industries, so you can use it to play at a variety of online casinos. Neteller is now available in more than 200 countries and accepts 26 different currencies, including Nigerian Naira.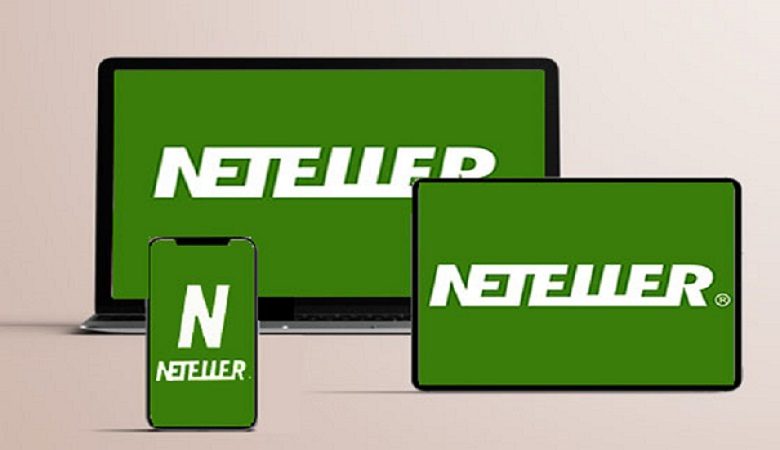 What is Neteller?
Neteller is a well-known e-wallet that is widely used in Nigeria. This online payment system allows customers to send and receive money from anywhere in the world, as well as make online purchases. Inexpensive costs, quick transaction times, top-notch safety and security, and low FX conversion fees are just a few of the reasons why Neteller is so popular. You may also purchase and trade bitcoins with it. In Nigeria, the e-wallet is commonly used for these purposes, and the Nigerian naira is one of the accepted currencies, so you won't have to pay any currency exchange fees.
Online casino deposit with Neteller
Neteller is becoming one of the popular payment methods for online casino players since it is an e-wallet that practically every online casino in the world accepts. It is quite beneficial to have a Neteller account in Nigerian naira since you will not have to pay an exchange fee if you play at a Nigerian online casino.
Neteller is a service that connects your bank and the online casino you're playing at. Due to this, you can rest assured that your financial and personal information is completely safe and secure, as you will not be required to provide it to the online casino. Furthermore, when you use Neteller as a deposit method, you will be eligible for special bonuses and promotions at a number of online casinos throughout the world. That's fantastic since you may use a secure payment solution while also increasing your gaming bankroll.
Another benefit of using Neteller to fund an online casino account is that the processing is usually instant. This means that after funding your account using Neteller, you can immediately begin playing your favourite games.
How to open a Neteller account in Nigeria?
To open a Neteller account, you can use your mobile device or a desktop computer to access the Neteller website. Once you've clicked the 'Register' button, you should enter the information required in the registration form. At first, this entails providing your full name, email address, and creating a password for your account. Also, you will need to choose your preferred currency, as you can't change it later. So, depending on what you need the Neteller account for, you should choose wisely.
Once you click Register, your account is open, However, you can't start using it before you finish the verification process. To verify the Neteller account, you will need to provide:
Full Address
Date of Birth
Mobile phone number
You will receive a verification code on your phone number, that you will need to enter in order to proceed.
The next step is to create a 6-digit Secure ID. You will need this Secure ID to be able to log into your account or send and withdraw money. Following this, you need to enter your card details to fund the account, as a way of confirmation. In the next paragraph, learn more about how you can deposit to your Netteler account.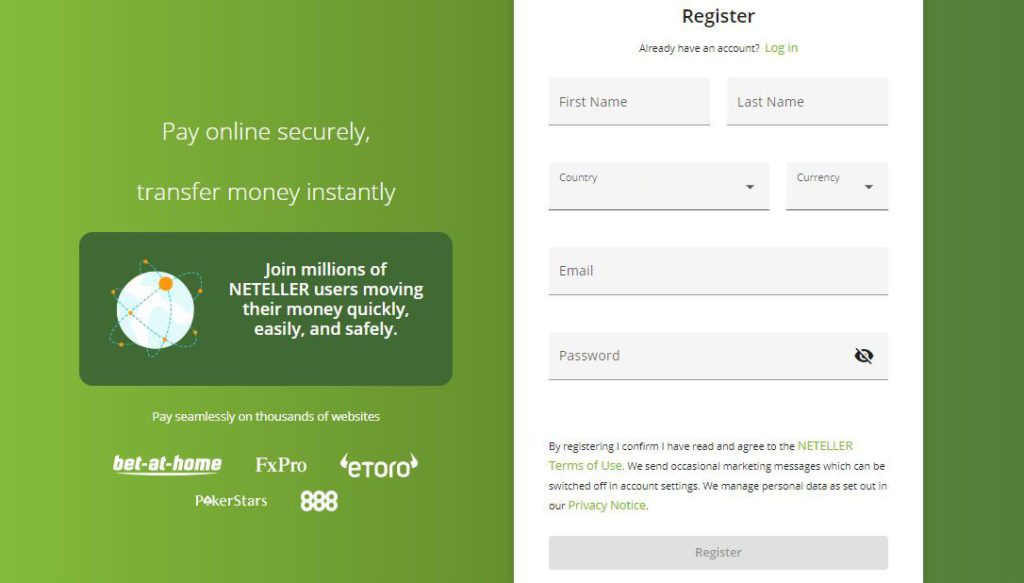 How to fund a Neteller account in Nigeria?
Once your account is activate, you will need to make a deposit in order to start using it. For Nigerian customers, there are a few ways to fund the accounts, which are also the most common.
Bank Card Deposit
First of all, you can fund your Neteller account using your bank card. Neteller accepts all major cards, like Visa and Mastercard. If this is your deposit option, go to the Money In section and choose the bank card option. Enter the amount you want to deposit and your bank card details. Press "Continue" to complete the process. It should only take a few seconds to validate it, after which your funds will be transferred to your account. The charge for depositing using a bank card is 2.5% of the total amount.
Deposit via Bank Transfer
The second option is to make a deposit by bank transfer. If you are using online banking, you can deposit to your Neteller account from home. But, if you don't have the online baking option you will have to go to your bank to complete the transfer. To begin, go into your Neteller account and select the Bank transfer option from the Money In tab. Next, select Deposit Now and enter the amount you want to deposit into your account before clicking Continue. On the screen, you will then see the bank details and reference number for the transaction. Then, either finish the payment online, in person at a local bank branch, at an ATM or over the phone using your telephone banking. Depositing via international bank transfer carries a charge of 2.5%, while the charge for a local bank transfer can be from 0-1%.
Bitcoin Deposit
Another option that is not so common, but is becoming more and more used is deposit with bitcoin. Go into your Neteller account and select the bitcoin option from the Money In tab. Enter the amount you want to deposit into your Neteller account in the box provided (your bitcoin app should be running). After that, you'll be redirected to a third-party app where you can complete your transaction.
How to withdraw from Neteller account in Nigeria?
There are various ways to get money out of your Neteller account. To begin, navigate to the Money Out tab, which will direct you to the various withdrawal options. Then, you can choose your preferred withdrawal method from here. You can withdraw directly into your bank account, Skrill account, or mobile wallet.
Withdrawal to Nigerian Bank Account
You can withdraw your money from the Neteller account to your Nigerian bank account in just a few simple steps.
Go to the Money Out tab of your Neteller account.
Select Bank Transfer as your method of withdrawal and click "Withdraw Now."
If this is your first withdrawal, enter your bank account information first, then click "Next" and enter the amount you want to withdraw.
After that, click "Next" to see a summary of your transaction data. Check the information and, if everything looks good, click "Confirm" to finish the transaction.
Your money will normally appear in your bank account within 2-5 business days. For this type of withdrawal, Neteller charges 10 USD per transaction. On the plus side, you will not be charged an FX rate if you transfer from a Neteller account that is in Nigerian Naira.
Withdrawal to Mobile Wallet
If you want to make a withdrawal from Neteller to your mobile wallet, follow these steps:
Go to your Neteller account and click the Money Out tab
Select "Mobile Wallet" as your withdrawal option and click Next
Enter the amount you want to withdraw and select Withdraw Now.
The summary page will open then. To complete the transaction, check the box and click Confirm.
Is Neteller safe?
Neteller is regulated by the Financial Conduct Authority in the UK. This means, among other things, that when you pay with a Neteller account, your private financial information will not be displayed. Neteller can ensure the highest level of security at all times.
Neteller protects you from identity theft and money laundering by utilizing cutting-edge technologies. Some of the technologies used include BIN/IP control, real-time transaction monitoring, security authentication (CV2 / CVV), fingerprint and account monitoring. These precautions protect you from becoming a victim of identity theft.
In addition, the company advises customers to take safeguards as well. For example, using Two-Step Authentication offers an extra level of security. Using a secure password, not disclosing your account information with others, and not logging into your Neteller account on public computers are all safeguards you can take to keep your account safe.