OPay is a popular online wallet for conducting mobile payments and transactions. It was founded in 2010 and was known as PayCom. In 2018, Opera Group acquired PayCom The Opera Group is the owner of the Opera News, Opera Ads and the Opera Browser, which is the second most used browser in Nigeria.
After the acquisition, Opera Group launched OPay in Lagos, Nigeria.

What is OPay?
OPay is an e-wallet that is mainly focused on customers in Africa. The payment service is now widely used in Nigeria's major cities, including Enugu, Aba, Ibadan, and Kano.
OPay is a company that uses its smartphone app to simplify mobile transactions. With it, you may recharge your phone, send money to other users, pay your bills, withdraw money from your bank account, and do a lot more.
OPay is a fantastic alternative to standard financing ways such as credit cards and bank transfers, and it is growing in popularity among bettors thanks to its frequent discounts and bonuses. While some other payment platforms charge bettors additional fees, Opay allows users to save money.
How does OPay work?
OPay has created an easy-to-use mobile wallet that will help Africans become more financially included. With a legitimate phone number and a current email address, a user can create an account. If the user does not have a bank account, they can still use and fund the wallet by going to an OPay agent and giving them your OPay number, which will allow the deposited funds to be transferred to the wallet. When opposed to a traditional bank account, where a consumer must apply, wait for a bank teller, be authorized for an ATM card, and then register for online banking, OPay delivers convenience.
How to open OPay account in Nigeria?
To start using O Pay you will need to open an account and deposit money into it. The first step is to get the app on your phone. The OPay App is available on Google Play for Android users and on the App Store for iPhone users. Once you have installed the app, it is time to create the account.
First, go to the Sign-Up button to start the registration process. You will need to enter your phone number and create a password for your OPay account. You will receive an SMS to verify your phone number with an OTP. Enter the OTP and click Create.
The next step is to provide some personal details, line full name, address and email. To finalize the registration form you will need to create a PIN for all your future transactions. That way, you can be sure that no one can use your OPay account.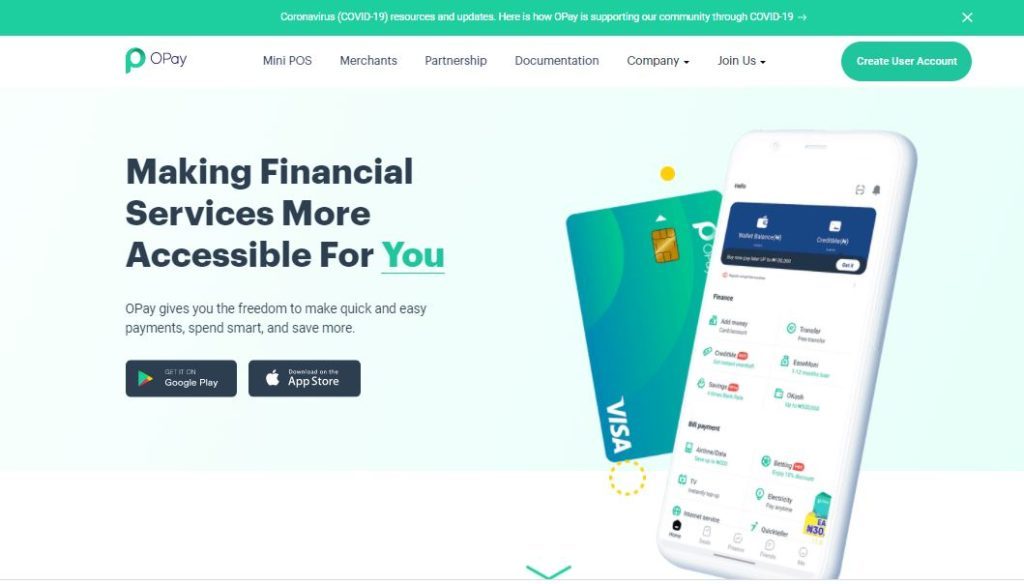 How to fund an OPay account in Nigeria?
Before you can use OPay, you must first fund your mobile wallet. To do this, go to the main menu and click Add Money, then choose which method you want to use to deposit money.
In Nigeria, there are three ways to fund your OPay Account.
First, you can do so by using your bank card. This is the easiest and quickest way, as you will just need to provide your card details, enter the amount of money you want to add and confirm the transaction. The money will be deposited into the account immediately.
Another way to do this is to make a bank transfer using your online banking app. However, before you try to do this you should check the website to see whether your bank is on the list of available banks. The payment process is straightforward and similar across all of these bank applications, however, there are minor variances. When you select your preferred bank, full instructions on how to transfer money to your wallet using your bank app will appear.
For those who prefer cash deposits, the third option is the most convenient. You can take the cash and visit an OPay agent.
A POS agent that uses OPay services is known as an O Pay merchant. A person like this is enrolled with OPay as an agent, not as a regular user. In addition, an OPay agent has a larger daily transaction limit than regular users. Open the app and tap "nearby agents" to fund your account through an agent. You'll be able to see all of the merchants in your area, as well as the location of their store. All you have to do is go to the agent's location, hand over your cash and Opay account number to the agent, and request a deposit. Before leaving the store, check your wallet and make sure the money is there. Like most things on O Pay, depositing through an agent is free.
How to withdraw from OPay in Nigeria?
You can withdraw money from your OPay account in two ways, depending on whether you want a bank transfer or cash.
One option is to use the OPay app to make a bank account withdrawal. To withdraw to a bank account, simply go to the Transfer tab, then select Bank from the menu. Select your bank, enter your account number and the amount to transfer, and click Done.
Another option is to withdraw cash. To withdraw cash, go to an agent near you and make a withdrawal request. The agent will provide you with their OPay number, which you will use to send funds to them, and they will pay you cash, and deduct the fee. While depositing cash to OPay through an agent is free, withdrawing funds carry a transaction fee of between 50 and 1,500 Naira.
How to get a loan from OPay in Nigeria?
To get a loan from OPay, you will have to use OKash, which is also part of the Opera Group. With OKash, you can take out short-term loans and pay them back later.
You can borrow money from OKash by downloading the standalone app from the Google Play Store. You can also go to the OKash website for further information.
Before you may borrow money on OKash, you must be between the ages of 20 and 55. Your BVN and other bank information will also be required.
Online casino deposit with OPay
The rise of online gambling has increased the demand for appropriate casino payment methods. OPay is an example of a service that has managed to meet the needs of the industry. Players can now deposit and withdraw using their OPay mobile wallet, which is really convenient. When playing on a mobile device, the app's flawless navigation makes it a viable option. Whether you're a novice or a seasoned gambler, this mobile wallet has a lot to offer.
The mobile wallet is accepted by a large number of online casinos that are available in Nigeria. It's one of the simplest and fastest payment methods available. It is also offered at major casinos because of the minimal fees and, in some cases, free transactions.
OPay acts as an intermediary between your bank and the casino, or as a full-fledged e-wallet that keeps your funds secure online until you choose to use them.
Making online casino deposits using OPay is simple and similar to using other e-wallets like PayPal or Skrill. The app allows gamers to make deposits using their debit cards or to deposit funds into an e-wallet and make payments afterwards. In either case, players can make reasonably inexpensive and lightning-fast payments while keeping their financial information private and only exchanging it with OPay.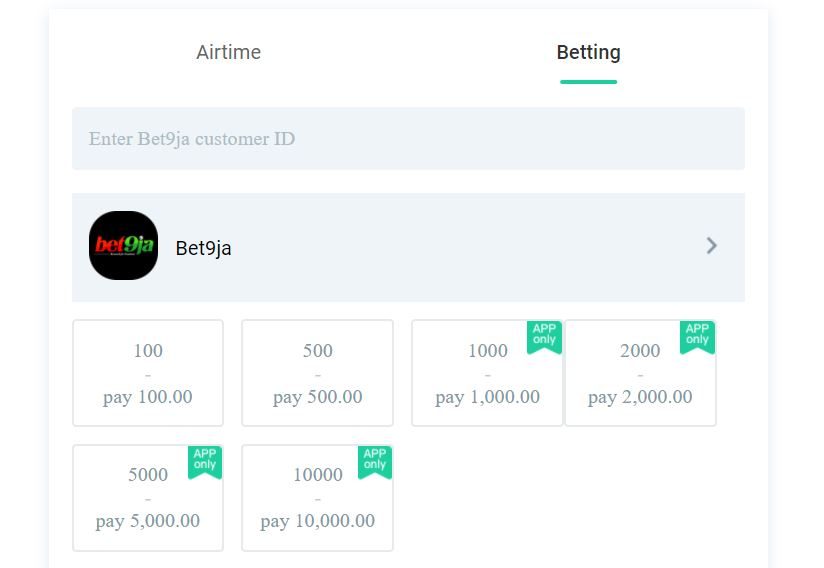 How to make an online casino deposit?
If you want to use OPay as your online casino deposit method, you should first choose a Nigerian online casino that accepts OPay payments. To be sure you get the right one, below you can find the list of online casinos in Nigeria that allow Opay deposits.
To make a deposit, go to the "Betting" section of the main page, select your betting site or online casino from the drop-down menu, and fill in the required information. The required information is your online casino USER ID and the deposit amount. follow the instructions and the money will be added to your casino account.
Be aware that the minimum deposit amount is N100, while the maximum is N10000.
Nigerian online casinos that accept OPay deposit
Bet9ja casino, one of Nigeria's greatest online casinos, accepts a variety of payment methods. If you register, you get the Bet9ja 100% Sportsbook Welcome Bonus plus 50% Casino Welcome Bonus.
Betway casino is an internationally recognized brand, and Nigerian players can bet using O Pay. For all new registered players, Betway casino has a welcome bonus of up to N100000.
1xBet Casino has undoubtedly one of the best welcome offers for Nigerian players. Make a deposit with OPay and get a bonus of up to €1500 plus 150 Free Spins.
Melbet casino is one of the best, with an incredible offer of a deposit bonus of up to 801500NGN plus 290 free spins. The offer is available for players that make a deposit with OPay as well.
Nairabet casino offers amazing sports betting options, as well as virtual sports betting and online casino. The best part is that you can use OPay for deposits and withdrawals.