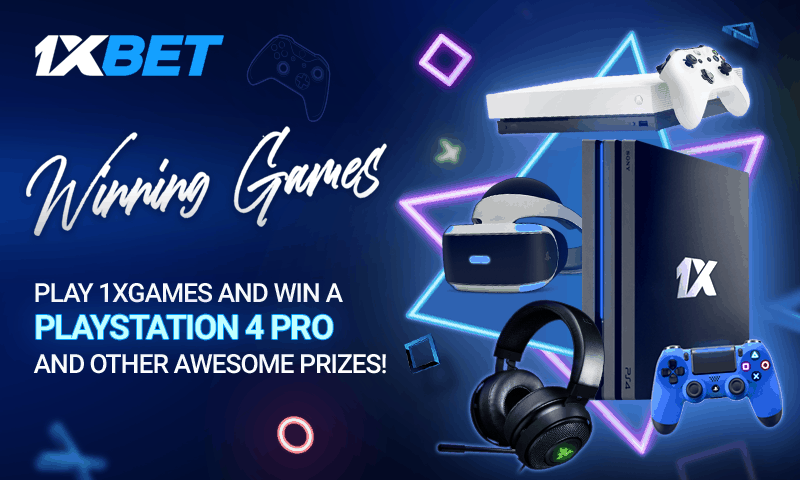 Are you a huge fan of unique online games and a passionate console gamer at the same time? Then your two greatest passions meet at 1xBet Nigeria casino through the Winning Games promotion they just launched. Becoming a 1xBet member does not only give you access to over a hundred unique 1xGames that are not available anywhere else right now, but you also have the chance to win amazing gaming gadgets. By taking part in this promo you get the chance to win a Playstation 4 Pro, an Xbox One X or the Razer Kraken Tournament Edition headphones.
Here's How to Take Part:
Create an account with 1xBet
Go to the promotion page and click the "Take Part" button to register for the promotion
Make a deposit and place a bet of minimum €4 on the 1xGames
Accumulate tickets for all the bets placed between 10.03.2020 and 10.05.2020
Follow the draw that takes place on 11.05.2020 at 18:00 UTC + 3 to find out if you're one of the winners
You don't necessarily need to be a gaming enthusiast to take part in this promotion. The consoles and other gaming gadgets can make the perfect gift for your kids or other members of your family. One of the best aspects of the Winning Games promotion comes from not having to do anything in particular to take part. You just enjoy the exclusive 1xGames, have fun and you're automatically signed up for the big draw.
Here's the complete list of prizes you can win by participating in the Winning Games promo:
1st place – 5 Playstation 4 PRO consoles with a 1Tb VIP Bundle, VR set and Gamepad
2nd place – 10 Xbox One X 1Tb consoles
3rd place – 20 Razer Kraken Tournament Edition headphones
If you're not one of the big winners, there are still plenty of reasons to join the Winning Games promotion. Thousands of bonus points and free spins are awarded to other 740 lucky winners so nobody comes out empty-handed.
If you don't already have a 1xBet account, this is the perfect time to create one and take full advantage of the Winning Games promotion running until the 10th of May. More tickets mean more winning chances and you should start as soon as possible by creating an account with 1xBet!