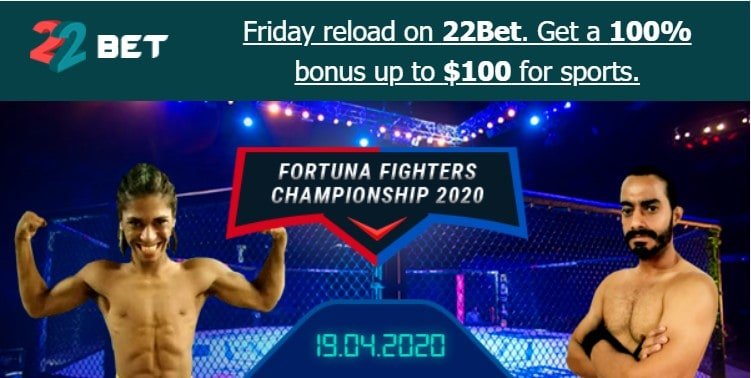 On April 18, a mixed martial arts tournament Fortuna Fighters Championship 5 is scheduled to take place in the Brazilian municipality of Fortuna di Minas. The octagon is expecting quite a few ambitious fighters whose careers might be kick-started by the event. Fights will be held in three weight categories – bantamweight, flyweight, and middleweight.
The title fight is between bantamweight fighters – Rafael Pereira, nicknamed Mini Man (22 years old) and Elder Freitas, nicknamed Galbinho (31 years old). The former has had 9 fights, with 5 wins (1 knockout, 2 submissions) and 4 defeats. The latter is a total beginner without any track record, but older. Pereira has the advantage of experience in the octagon, but Freitas is in his prime and may well teach the younger guy a lesson. Raphael Pereira to win with odds of 1.62 at 22bet Nigeria. Elder Freitas to win with odds of 2.28.
Another much anticipated event is a fight between flyweight fighters – Fabiano Moreira, nicknamed Tutu (28 years old) and Ronaldo Saminez, nicknamed Tazmania (34 years old). Moreira accounts for 12 fights and an equal number of victories and defeats – 6 of each. He is very good at choking techniques, as indicated by 4 wins by submission. Saminez's track record is more modest – he's had 7 fights in the professional ring, winning only 2 times by decision of the judges and losing 5. Fabiano Moreira to win with odds of 1.21. Ronaldo Saminez to win with odds of 4.36.
Fighting in the middleweight category are Fabio Cardoso and Tulio Marcos. Both fighters are over 30 but only at the start of their mixed martial arts careers. Cardoso has had 3 fights, losing 2 but winning one by submission. Marcos is more experienced – 9 fights, but only 2 wins and 7 defeats. Despite the fact that Tulio won twice by knockout, Fabio is a threat due to his choking technique, as long as he manages to take the fight to the ground. Fabio Cardoso to win with odds of 1.44. Tulio Marcos to win with odds of 2.76 at 22Bet.
Another fight in the middleweight category will take place between two amateurs – Vitor Costa (19 years old) and Samuel Decolo nicknamed Brutos (34 years old). There is a serious age difference, but neither fighter has any professional experience. Costa has had only 2 amateur matches, winning once (by decision of the judges) and losing the other time. Decolo is a total beginner and will be participating in an amateur fight for the first time. Youth and passion give an edge, but there have been those that started winning MMA after the age of 30.