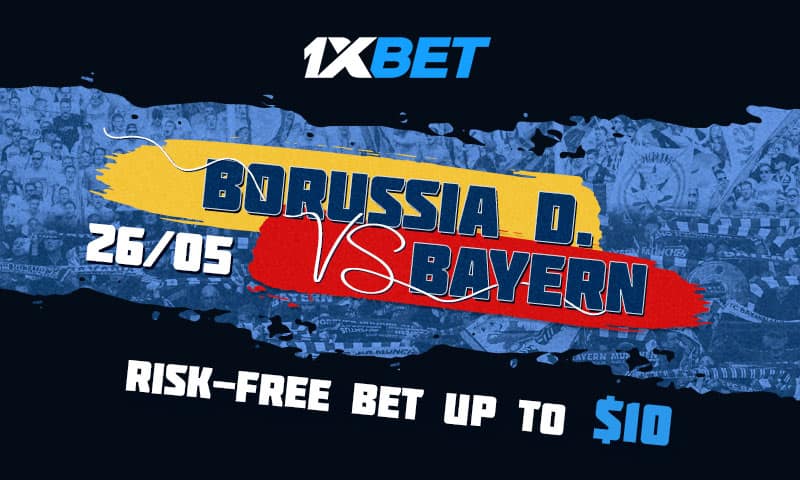 On May 26, football fans from all over the world will see a highly anticipated match where Borussia Dortmund take on Bayern Munich. This match will be even more interesting for 1xBet Nigerian players because they will be able to take part in the exciting 1xBet  "Risk-free bet" promotion.
With these two clubs in an epic struggle at the top of the Bundesliga, this encounter will be of vital importance. Not only is the match a great opportunity for the teams to treat fans to some superb football, but it also represents a chance at victory and taking a step closer to lifting the trophy.
Both teams are in great shape. Munich blossomed after Hansi Flick took over coaching – in fact, his first victory at Bayern was a 4-0 trouncing of Dortmund. As for Borussia, aka the "Bumblebees", under the leadership of Lucien Favre, they continue to be one of the strongest teams in the Bundesliga and have a serious chance to win the championship for the first time in 8 years.
It's not easy to predict the winner of this upcoming super match, however, 1xBet players can bet on the outcome of the game and not worry about the result thanks to the "Risk-free bet" promotion. According to its rules, 1xBet users can place a bet on the Borussia vs Bayern game and, if their bet loses, get a full refund (up to $10).
To join the promotion, simply register or log into your 1xBet account, choose to participate in bonus promotions in your account, then place a bet on the Borussia vs Bayern match.
Bet on this pivotal Bundesliga clash and profit without risk!