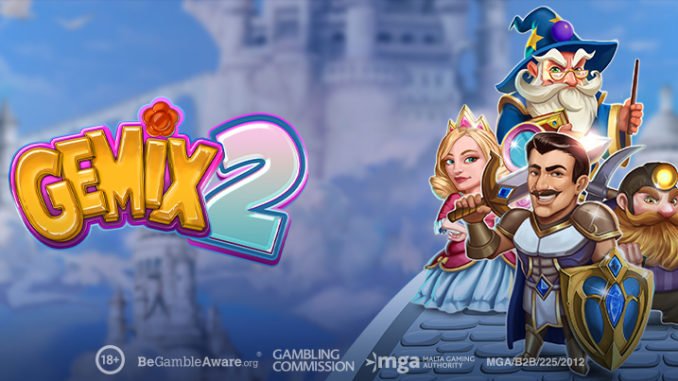 The sequel to Play'n GO's popular game GEMiX dazzles with new characters and worlds.  
A new resident has entered the World of GEMiX. The peaceful worlds of the Miner, the Wizard and the Princess are overshadowed by swirling clouds in the sky to reveal the fourth realm. That of the valiant Sky Knight.
This is a game designed to entertain original players of the original blockbuster GEMiX as well as new players. A 7×7 cluster grid slot with cascading reels, players must match five to create a win.
GEMiX 2 isn't shy of features. Original symbols from the previous slot game remain with the addition of a new character, The Sky Knight. Each character serves as a unique Wild to keep players on the edge of their seats. Character Wilds can be triggered on any random spin, plus more than one Wild can be triggered in a single round.  
Four charge features create pace and form new combinations as they transform and destruct symbols on the grid. The Super Charge feature is triggered at the end of a game round when there are no more winning combinations present, and the charge up is complete.
Introducing an additional character and world makes for more immersive gameplay and paves the way for future narratives. GEMiX 2 gives players the ability to cross into the different worlds of the Miner, the Princess, the Wizard and now the Sky Knight.
Artistically GEMiX 2 has evolved from its predecessor. Shiny symbols in the first game, reminiscent of social mobile games like Candy Crush, have been refined, swapped for bold colours that pop on the reels. Characters take on a more realistic but still cartoonish style retaining the fun nature of this bright game.
Head of Games, Charlotte Miliziano, said:
"We're excited to expand the GEMiX World – and we know players will be excited too.
The potential to introduce new characters and worlds is limitless. It allows us to play with new features and develop innovative ways to immerse players in the world of GEMiX!"
Play GEMiX 2 today at 22bet Nigeria.