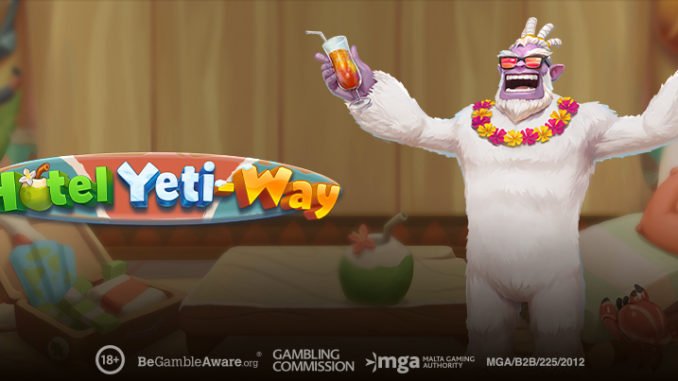 The newest game in Play'n GO's portfolio, Hotel Yeti-Way, gets us in the mood for summer. 
The treacherous Himalaya trail is full of peril. Many unsuccessful adventurers have had no option but to turn back before reaching the top. After a Yeti comes across a discarded case of supplies and money, he decides to take a break from the icy mountains and head to a tropical paradise, we mean… Who wouldn't?
An already action-packed slot game, the use of the Dynamic Payways heightens the thrill further as it gives players more ways to win with every Free Spin. One or more of the reels on every Free Spin are selected to have an x2 Multiplier, doubling the number of payways on that reel.
The charismatic Yeti serves as a Wild and Bonus symbol; each costume features a unique mechanic. The Scuba Diving Yeti awards re-spins when shark symbols are on the reels. While the Surfing Yeti Wilds will be added to the reels in random positions. Finally, the Bungee Jumping Yeti expands to fill the reel; then, there is a chance for the Yeti to create additional Stacked Wilds across random reels.
An uplifting colour palette is used in the game, radiating that much-needed summer feeling. The animated Yeti breaks his stereotype as the snow dwelling creature of the mountain; he seems much happier sipping on a Piña Colada.
Visually, plenty is going on in this game. The design team have paid attention to every detail. Backgrounds change, matching the theme of the Yeti's different attires, and vividly coloured symbols pop on the reels. Head of Games Charlotte Miliziano comments further:
"We wanted the Yeti character to engage with the players. The formula, if you like, of a change of outfits with the different mechanics is not only engaging visually but lends more to the play of the game itself. It's a win-win."
Play Hotel Yeti-Way today at 22Bet Nigeria.