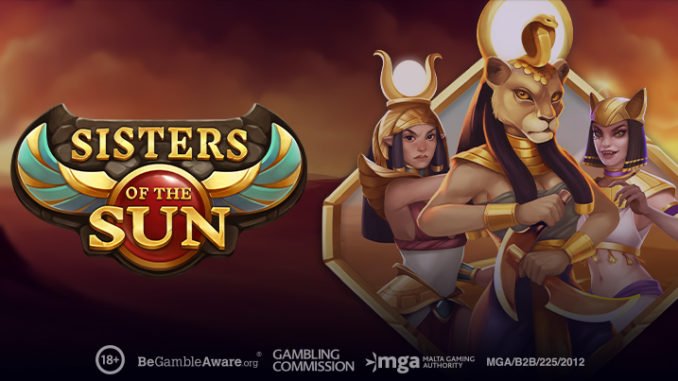 Once again, Play'n GO step back in time as they return to Ancient Egypt with Sisters of the Sun slot game.
The Sun God Ra has bestowed powerful gifts upon his descendants, the Egyptian goddesses Sekhmet, Hathor and Bastet. Each now with a unique gift can harness the power of the sun and cast light and fortune on the favoured. So, it's probably best to stay on their good side.
Following the success of Moon Princess and Rise of Olympus, the grid clearance aim is popular amongst players as it offers a clear goal. Sisters of the Sun sees small changes made to the Multiplier and Free Spins to increase the game's maximum win and long-term goals.
Each goddess possesses a unique feature that will either transform or destruct symbols on the grid. The active goddess will appear on the grid to show which feature will play out. The Scatter is designed as a scroll, and the Wild is represented as a sun symbol, linking to Ra and the theme of harnessing the power of the sun in the game.
On top of harnessing the features of each goddess, players are kept on the edge of their seats with the goal of clearing the grid. Doing so will award a prize of x50 of the player's bet, which is multiplied by the Win Multiplier.
Previous games have seen well-known Gods such as Osiris, Anubis, and Ra. Sisters of the Sun sees perhaps lesser-known Egyptian goddesses, the descendants of Ra, Sekhmet, Hathor and Bastet. Demonstrating the many avenues that the Ancient Egypt, Dead series and even the Wildes can take.
Head of Games, Charlotte Miliziano, comments further on the popularity of the Ancient Egypt theme.
"The regal nature of Ancient Egypt narratives, gods and pharaohs continue to be a favourite amongst players as the content is so rich. There are so many gods, goddesses and pharaohs that we haven't heard of. Maybe we'll be the ones to tell their stories in our games."
To play it in Nigeria, go to 22Bet Nigeria casino.