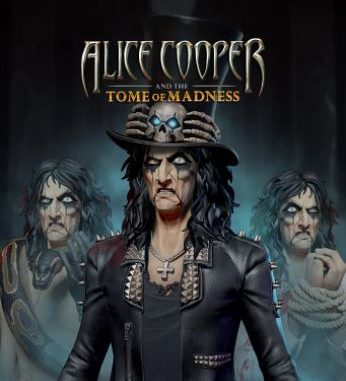 Play'n GO delve into the dark realms of Alice Cooper's psyche with their latest release, Alice Cooper and the Tome of Madness. In Nigeria, the slot is available at 22Bet Nigeria.
When exploring the city of his latest musical tour venue, Alice comes across an eerie bookstore. While running his fingers along the spines of old books, he lands on a journal that piques his curiosity. When opening the book, Alice finds that the pages are blank. Intrigued, he buys the book.
As the journal is blank, Alice takes the opportunity to pen his memoir. With each stroke, he hears scratching coming from within the book. As he continues to write, other pages fill with stories of other Coopers in parallel dimensions. Now a prisoner of his own making, Alice must keep his story alive, to keep himself alive.
The sequel to Play'n GO's smash-hit, Rich Wilde and the Tome of Madness, players can expect great things from this rock-inspired grid slot. This slot game is packed with features, including the 1×5 Mega Wild, a unique feature that makes its debut here, reminiscent of the explosive finish that Gargantoon gives in Reactoonz game.
Alice Cooper's realities are designed with a dark setting from which Alice is trying to escape. There are four realities, all with unique non-win features: the Insane Asylum, The Dungeon, The Temptation Room, and The Chamber of Horrors. Players must fill the charge meter to earn extra Wilds and trigger Free Spins. Plus, the overcharge function will create a Multiplier increasing the player's potential further still.
Alice's aesthetic has been key to the game's design, and even his song from his 1975 concept album of the same name, Welcome to My Nightmare, features as the game's soundtrack. Head of Games Charlotte Miliziano commented further:
"It was so exciting entering the theatrical – and macabre – world of Alice Cooper. We got to take elements of horror, vaudeville, and garage rock to create these epic worlds that Alice finds himself trapped in.
"We're excited to continue expanding our ever-growing IP game portfolio and work with epic artists as they form the basis for great games that players adore."