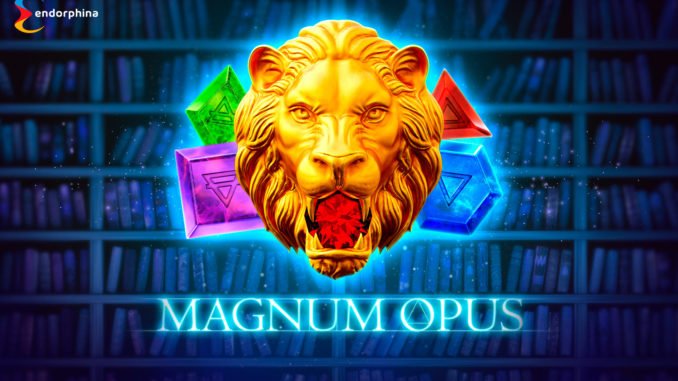 Endorphina has just released its brand new medieval slot, one that pushes you to use some ancient magical practices to create the future and life you ultimately crave. The new slot is entitled Magnum Opus – a term that refers to an artist's greatest work or achievement. What will be yours? – Will luck be on your side so that you have what it takes to create your own elixir of life? Immerse yourself into the mystical world of alchemy and accept the challenge of creating something truly valuable inside of Endorphina's newest slot!
Jan Urbanec, Endorphina's CEO, comments on their newest release: "As our new game's name Magnum Opus suggests, this game is a visual masterpiece. I am very proud of our team for introducing this atmospheric slot with such a strong theme. Player immersion is guaranteed!"
This ancient slot has 3 reels, 3 rows, and 5 paylines. On each enabled payline, only the highest win is paid. All prizes are for combinations of a kind. The matching symbols must be on enabled paylines and adjacent reels, starting from the leftmost. Wins on different paylines are also added. All prizes in the paytable are shown for the currently selected bet and number of enabled paylines in money or credits depending on the currently selected mode.
When 9 symbols of the same element of nature appear on the reels, the Golden Elixir Bonus Game is launched. You will find yourself in the alchemist's laboratory where you will help The Alchemist make gold. Players can multiply their winnings up to 2, 4 and 8 times, according to which 9 identical elements they will make – copper, silver, and gold respectively.
Remember that it's impossible to get gold right away: you will need copper and silver first. To start the experience, select an element and let the magic happen! If the experiment goes well, you will receive one of the metals and continue the experience. To do this, one of the remaining elements will need to be added to the resulting metal. If the experiment fails, the Bonus Game will end. Winnings in the Bonus Game are not summed up, only the last activated multiplier is applied. During the bonus game, the Bonus Game cannot be won again.
You can also test your luck in a classic Risk game and double your winnings up to 10 times. The Bonus Pop feature is also available in this game.
Ready to experience the transformation that awaits you inside Magnum Opus? Be the first to find the true Golden Elixir! Play now at 1xbet Nigeria.