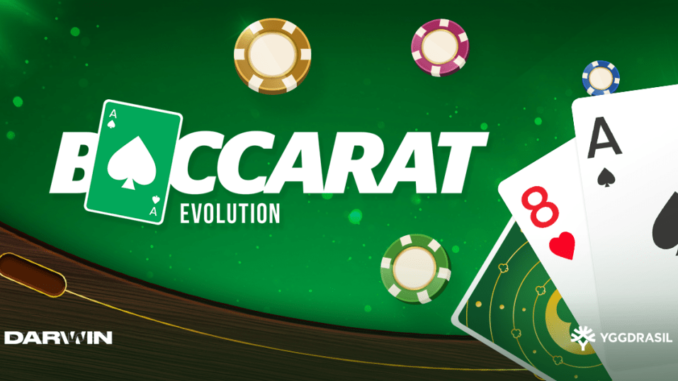 Yggdrasil and Darwin Gaming have teamed up to create an engaging new baccarat game with a Peak and Reveal feature that replicates real-life casino gameplay.
Baccarat Evolution, Darwin Gaming's debut offering as a YG Masters partner, combines all of the basic characteristics of the classic casino game with a fresh and intuitive configurable UI and incredible new features.
When playing on a mobile device, the Peak and Reveal function simulate playing in a real casino by allowing players to actively manage the act of displaying their cards by swiping up with their finger.
Players can choose from three different themes, each of which alters the way the game is shown. Light, Dark, and Classic are the three themes available.
Players can choose to speed up their hands by selecting Turbo Mode, which can be engaged and disabled freely between bets if they want to enjoy faster action on the fly.
In addition to Baccarat Evolution, Yggdrasil and Darwin Gaming have released Baccarat Evolution VIP, which has the same unique features as Baccarat Evolution but with a wider betting range for those who want to spend more.
Baccarat Evolution, which is part of the YG Masters portfolio, is Darwin Gaming's first release since joining the project in 2021. The game is powered by GATI, Yggdrasil's cutting-edge technology that allows partners to use a preconfigured, regulation-ready, standardised development toolkit to reliably build cutting-edge content and distribute it quickly.
Stuart McCarthy, Head of Product & Programs at Yggdrasil, said: "We're really excited to release this exciting new take on baccarat alongside Darwin Gaming.
"Innovation within this vertical can often prove tricky, as players enjoy traditional gameplay, but Baccarat Evolution is truly fantastic and offers a brand new experience for those that enjoy this much-loved card game."
Nuno Gonçalinho, CEO of Darwin Gaming, said: "As a new and emerging studio, we're filled with pride to be able to release Baccarat Evolution alongside Yggdrasil. We're incredibly confident players will enjoy what this immersive baccarat title has to offer."