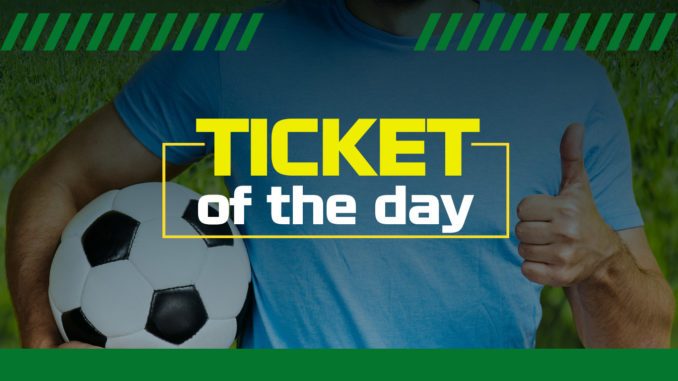 Before us is the 4th round of the Champions League and some postponed matches in the English lower leagues will also be played. The suggested odds were valid at the time the ticket was compiled.
Atletico Madrid – Celtic – 1&ov 2.5 @ 1.88 at Mozzartbet
Atletico failed to secure a win in Glasgow, although many expected it. In the end, Celtic might regret not securing the full prize as they had the lead twice but failed to maintain it. Both teams still have a chance to reach the knockout stages but Atletico's chances look much more promising. If they lose in Madrid, Celtic will definitely be out of the Champions League and it's unlikely they will even manage to be third to move into the Europa League. For them, this match is do or die; they were also unlucky against Lazio at home when they were defeated in the final seconds, while they were without prospects only in Rotterdam. Atletico, before this match in La Liga, was defeated by Las Palmas and will have to justify themselves with a victory in front of their fans. Celtic has no problems in their league but the fans want some success in Europe, which their biggest rival Rangers achieved two seasons ago by playing in the Europa League final. We expect an Atletico victory and several goals to be scored.
For a 1&ov 2.5 bet, the odds at Mozzartbet are 1.88.
Manchester City – Young Boys – 1&ov 3.5 @ 1.82 at Mozzartbet
It was known that City would not have problems qualifying for the knockout phase of the Champions League from this group and the ultimate goal of the team led by Pep Guardiola is to defend the trophy that they won last year for the first time in their history. In the first three rounds, they defeated Red Star at the Etihad, as well as Leipzig and Young Boys away. It seems that they struggled in all three matches; Red Star won the first half, Leipzig and the Young Boys managed to equalize at 1:1 but all three matches ended in favor of the Citizens with a score of 3:1. It would not be a surprise if the fourth match ends the same way. On Saturday, City celebrated a 6:1 victory over Bournemouth, while Young Boys also had a convincing win away at Winterthur. For the Swiss, the match of the season will be the duel with Red Star in Bern, where a victory would secure their place in European competition next spring, and City will finish first in the group anyway. Perhaps that's why both coaches might field some mixed line-ups, but even so, the host is of higher quality and will win once again with plenty of goals.
For a 1&ov 3.5 goals bet, the odds at Mozzartbet are 1.82.
Porto – Antwerp – 1&ov 1.5 @ 1.53 at Mozzartbet
With a victory two weeks ago in Belgium, Porto made a huge step towards qualifying among the top 16 teams in the Champions League. They managed to win both away games, first against Shakhtar on neutral ground, then Antwerp, while they were defeated by Barcelona at their own Dragao. The prelude to the rematch with the Belgian champion was not good. Porto was defeated at home by Estoril with a minimal score and now trails three points behind Benfica and six behind Sporting. That's not a small gap in the Primeira Liga, where these strongest teams very rarely lose points. Antwerp has a much more uncertain league. The Belgian Jupiler League has had a dramatic finish for several years, but we do not believe that last year's will ever be repeated anywhere. On Friday, Antwerp won the derby against Genk and is now four points behind the leading Royal Union. Their desire is to finish third in this group, but so far they have not yet earned a point and it is unlikely that they will succeed. Our suggestion is that the home team wins and scores two goals.
For a 1&ov 1.5 goals bet the odds are 1.53 at Mozzartbet.
Rotherham – Ipswich – 2&ov 1.5 @ 1.70 at Mozzartbet
Ipswich failed to win in Birmingham on Saturday, which ended their streak of four consecutive victories in the Championship. However, given how the match unfolded, they can be more than satisfied with one point, considering that the host was leading 2:0 until about ten minutes before the end. The Tractor Boys, as Ipswich's footballers are nicknamed, have now closed the gap to Leicester by one point since the Foxes were defeated in the derby at their own King Power Stadium by Leeds. However, for Ipswich, it would have been better if Leicester had won so that they could be secure in the second position, as this will give the Yorkshire side the impetus to embark on a mission to return to the Premier League. Ipswich still has a solid seven-point lead over Leeds, and a win over Rotherham in the postponed match of the 12th round would take them to a double-digit difference. The host is only interested in survival, being in 22nd place, the first below the line, and we do not believe they can oppose the more quality guests.
For the bet type 2&ov 1.5, which means an away win with at least two goals scored, the odds at Mozzartbet are 1.70.