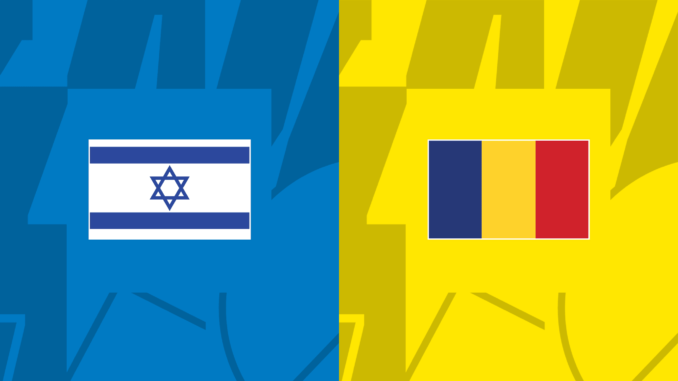 On Saturday, the qualifiers for the European Championship, which will be held next year in Germany, continue, and this time we have analyzed the match between Israel and Romania for you. The start of the match between these two teams is scheduled for 20 hours and 45 minutes.
Israel: Two victories almost certainly secure a place in the EURO!
Israel has not qualified for any major tournament so far, so it is certain that this team will give everything to reach the European Championship, which will be held next year in Germany, although it should be said right at the start that this will not be an easy task.
Currently, Alon Hazan's selections are in third place in the table with four points less than Switzerland and Romania, which currently share the first position. So far, Israel has played eight matches in these qualifiers and achieved three victories, three draws, but also two defeats.
Let's go in order. In the first round, this team played only 1:1 at their stadium against so-called Kosovo, and at first glance, it seems that this was a duel that this team had to win, especially since it was followed by a visit to the group's first favorite, the Swiss team, which easily defeated Israel 3:0 at home.
Even then, it seemed that Alon Hazan's selections could hardly come into a situation to fight for a place in the EURO, however, after that, the Israelis tied two victories, first on a visit to the unpleasant Belarus, when it was 1:2, and then at their stadium against Andorra, since that match ended with a score of 2:1.
A very difficult visit to Romania followed, in which Israel managed to remain undefeated, as that duel in Bucharest ended with a score of 1:1.
After the victory at home against Belarus, everyone was of the opinion that Israel could equally join the fight for a place in the European Championship, however, after that, two duels followed without a victory. First, the team of coach Hazan allowed themselves to lose on a visit to so-called Kosovo when it was 1:0, and then Israel drew at their stadium against Switzerland, with a goal by Weissman two minutes before the end of regular time.
At home, in the qualifiers so far, this team has played four duels and achieved two victories and defeats, and it is certain that the Israelis will give everything to achieve a victory, which is desperately needed to stay in the game for a place in the EURO.
Romania: Excellent performances in the qualifiers, Romanians close to the EURO!
Unlike Israel, Romania has managed to qualify for the World Cup as many as seven times, and the greatest success of this team was recorded in 1994 in the United States when it reached the quarterfinals, although it should not be overlooked that the Romanians managed to reach the knockout phase four times.
As for the EURO, the greatest success was achieved in 2000, when this team reached the quarterfinals, and the last time we had the opportunity to see the Romanians at a major tournament was in 2016 at the European Championship in France, when this team ended their participation already in the group stage. So, Romania has not been at a major tournament for a full seven years, and as things stand now, it is very likely that we will see this team next year at the European Championship in Germany.
Currently, Eduard Jordanescu's selections are sharing the first place in the table with the same number of points as Switzerland, since both teams have so far collected sixteen points, which is currently four points more than third-placed Israel, with whom Romania also visits in this round and if they manage to celebrate, this team will secure a place in the European Championship one round before the end.
So far, the Romanians have played eight matches in these qualifiers, and what certainly should be praised is the fact that the former World Cup quarterfinalist still does not know for defeat, as during that period this team achieved four victories and four draws. In the first two rounds, they defeated Andorra away, but also Belarus at their stadium, after which two consecutive draws followed, first against so-called Kosovo away, and then on a visit to Switzerland in a great match that ended with a score of 2:2, and it seems that we all then realized that the Romanians have a great chance to reach the EURO.
It should be mentioned that the host led until the 89th minute, but then the player of Parma, Valentin Mihaila, scored two goals in just three minutes and brought his team a very important point. After that, Romania played 1:1 at home against Israel, with whom they will measure forces tonight, and after that duel in Bucharest, the currently second-placed team in the group defeated so-called Kosovo at their stadium with 2:0. In the last two rounds, the team led by Eduard Jordanescu managed to remain undefeated, as they drew on a visit to Belarus, but also in the last round at their stadium demolished Andorra with 4:0.
Our suggestion
At first glance, it seems that this is a very difficult match to predict. However, as the host, who will play this duel on a neutral field due to known events, only a victory suits, it seems that Israel could score three points and come to just one point behind the Romanians, before the last round of qualifications, so we recommend you to play a single for which Mozzartbet Nigeria prepared a coefficient of 2.75.
We believe that the double chance on Israel is more than acceptable, so we warmly recommend you to try the game 1X with a quote of 1.47 in Mozzartbet.
Finally, we believe that there will not be too many goals here, and we boldly advise you to play the game 0-2 goals which the bookmaker Mozzartbet pays with a quote of 1.67.